Chinese New Year Celebration
(by Cathy Roberts.)
Lunar New Year is the most important and celebrated holiday of the Chinese traditional calendar. This year, a celebration was hosted by the Hai-Hua Community Center at the Fair Oaks Mall in Fairfax, Virginia on February 4th and 5th.
The two-day celebration included arts and crafts activities; performances of cultural dances, martial arts, and musical instruments; and a Chinese Chi-Pao fashion show. The famous Lion Dances and Dragon dances are believed to ward off evil spirits by the loud drumbeats and cymbals, along with the aggressive dancing of the lion or dragon. Arts and crafts activities included Chinese knotting, paper cutting, lantern making, origami, Chinese calligraphy, and face painting. Multiple Asian cultures were represented, including China, India, Japan, Korea, Malaysia, and the Philippines.
Camilla Ng of the OCAW Maryland Chapter performed a graceful Chinese Ribbon Dance. She also joined Christina Chang of the Virginia Chapter and others performing in the group dance and in the Chi-Pao show. Maria Yang, our National President, was there taking pictures.
(from Linda Devine)
Camilla Ng, former Maryland Chapter President, recently organized and coordinated a wonderful chrysanthemum show. She is the President of the Old Dominion Chrysanthemum Society, and the event was held on Saturday, October 29 and Sunday, October 30, 2022, at the James Lee Community Center in Falls Church, Virginia.


OCAW National VP for Membership Cathy Roberts kindly volunteered to help Camilla with the show, and Camilla put Cathy to work in assisting with the tabulation of judging results, taking advantage of Cathy's professional accounting expertise. Camilla was grateful to Cathy for her efforts.
Virginia Chapter member Amy Lee and her friend Philomena Loh, and Maryland Chapter members Linda Devine and Janet Biermann attended the show on Sunday, October 30, and enjoyed the blooms and Ikebana art on display
Chinese American Museum Tour and Reception
Auspiciously on this day, the rain had stopped and clouds had given way to clear skies and lovely fall weather as Maryland and Virginia members made their way to downtown D.C. from disparate locations in the two states, some coming a long distance to join in the occasion.
CAMDC is a new museum, and the first and only one in the nation's capital dedicated to the Chinese American story – its history, culture, and impact. Its mission is "to advance the understanding, knowledge, and appreciation of the Chinese American experience, by highlighting the history, culture, spirit, and contributions of Chinese Americans to our nation and beyond."
When we arrived at the museum, we were greeted by Louisa Sorkness, the museum's Program Coordinator. As attendees gathered, some of us who were early were invited to explore the various floors, including an exhibition by Chinese American and longtime Washington area artist Dora Fugh Lee, whose exquisite paintings graced the walls of the third floor.
Once guests were assembled, Karina welcomed the group, and on behalf of OCAW, she extended our gratitude to the museum for organizing and hosting this event. In particular, she thanked Jenny Liu; David Uy, Executive Director; David Yao, Advisor, Outreach and Community Relations; and Penny Yao, Senior Advisor. She also acknowledged Louisa Huang in advance for her presentation to come.
Following Karina, David Uy made remarks on behalf of the museum. He informed us that the idea of a museum was first conceived in 2017, and it has been in development since 2018. He then gave us some history of the project. He also talked about the many exhibitions and programs that they have been able to host, including several virtual ones. Uy concluded by saying, however, that they "still have a long way to go" in future programming, and his pride in the museum was evident.
We then had the privilege of hearing a presentation by Louisa Huang about the current exhibition, "Golden Threads: Chinese Opera in America." Louisa is Co-founder and President of DC Beauty of Beijing Opera. She began by briefly talking about the elaborate makeup used on the performers. Understandably, it requires a considerable amount of time to apply. 
Presentation by Louisa Huang
She then moved into a detailed discussion of the costuming for the performances, and how this aspect played a critical role in opera. On display in the exhibition were numerous garments, spanning a large variety. Louisa methodically went from one costume to another, pointing out various characteristics of each piece. Costumes are replete with symbols – particular pictures in their design which indicate the gender of the wearer, and also his/her status and character. The different necklines of the costumes also have meaning. Beside one costume was a pair of shoes, and Louisia explained that the higher the soles, the more elevated the status of the wearer.
The Peking opera costumes in the exhibition were from the extensive collection of Victoria Chen Lee. She was born in Shanghai, China in 1917. A fan of Peking opera, she studied the art in Beijing and performed professionally in Taiwan. Her collection comprises 200 costumes and accessories, most of which were custom-made for her in China and Taiwan.
Louisa's presentation was very informative and interesting, and we were grateful for the time she spent with us.
Afterward, we were given a nice reception. Tea and a variety of desserts were served, and we appreciated the offerings. We also embraced the opportunity to have wonderful social time with museum personnel and one another. The COVID pandemic had taken its toll on many of us, and we had spent a lot of time sequestered in our homes, so it was liberating to be able to finally enjoy a nice outing in a great setting. We were able to meet new people, and reunite with those whom we hadn't seen in person for quite a while.
We again extend our thanks to the Chinese American Museum DC and all who made this enjoyable event possible.
To learn more about the museum, visit: www.ChineseAmericanMuseum.org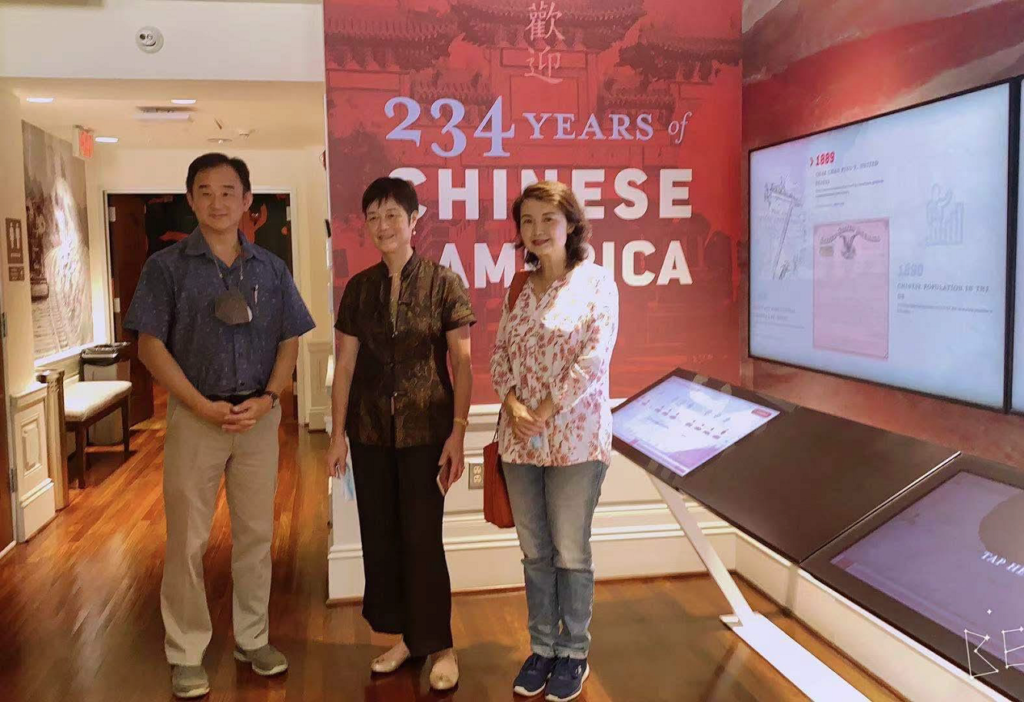 The museum's vision strives to be a nationally-recognized center for everyone by working with other organizations across the country.
Karina was able to connect with other Chinese Americans in DC where they had the pleasure of viewing the exhibit together. She urges OCAW members to show their support by checking out the museum's website for upcoming events and ways to assist them in their cause. The URL is: https://www.chineseamericanmuseum.org
Cooperation with Maryland and Virginia Chapters. Click this link Orange Ribbon to see article in Virginia section.
Maryland Lyric Opera House Welcomes a New Year
The Maryland Lyric Opera House (MDLO) is a regional, nonprofit company that strives to make the highest level of classical opera productions accessible for all audiences.

Karina Hou, the President of the Chinese American Chamber of Commerce of Greater Washington (CACCGW), initiated a donation to the Maryland Lyric Opera House in order to help support their mission and platform for musicians and singers. Karina would like to share this important company with her OCAW sisters and urge the community to show their support by becoming familiar with the Maryland Lyric Opera House through their website, www.mdlo.org, and checking out their upcoming news and performances.
To welcome the new year, the Metropolitan Opera and Washington National Opera successfully signed on Vocal Director Li Yi to facilitate a youth training program for Chinese singers Chen Yongxi, Wang Congcong, Shang Chunlai, Nina Duan, Wang Yang, and Deng Manli.
MDLO takes pride in discovering and nurturing young talent while also providing a learning platform for singers. In 2018 and 2019, the theater was able to invite seven music students from China to study and perform in the United States. Their efforts helped establish a bridge for Chinese youth to pursue their passion for professional opera singing.

Although Maryland Lyric Opera is not currently performing on stage in their normal capacity due to COVID-19, they are charting their path forward and continue to make contributions in support of the community. The theater is grateful for all the donations they have received to help make their platform possible. MDLO wishes everyone a wonderful and prosperous Year of the Ox, and they hope that individuals will learn of their upcoming musical performances in case they might be interested in attending.

(Editor's Note: Karina hopes to be able to interest some MDLO artists in joining OCAW.)
"Stop Asian Hate Vigil and Rally"
The numbers of racism and hate incidents increase all over our country. We cannot keep silent and need to have our voices heard.
On Saturday, March 27, 2021, Christina Chang and her husband Steve attended the "Stop Asian Hate Vigil and Rally" at Cheverly Legion Park in Prince George's County, MD. Amy Fry, a member of the Cheverly Town Council and also a Korean American, organized this event in a short week, and over 100 people of different diversity show up.
During the rally, we shared one message, 'Stop Anti-Asian Hate,' while also acknowledging the pain the Asian American and Pacific Islander communities are feeling, and have felt for years.
We need to be careful and be aware of our surroundings. Stay vigilant and report any hate crime right away.
Maryland State has two numbers to report incidents: Emergency number: 911
Non-emergency number: 301-279-8000
Both numbers will reach the same office, but the emergency number will take priority.
Note: WUSA9, a local CBS affiliate, aired a story about the protest.