Honoring Maryland State Senator Susan Lee
Karina Hou wears many hats, including OCAW Maryland Chapter President, President of the Chinese American Chamber of Commerce of Greater Washington, and Co-Chairwoman of the Montgomery International Film Festival. On Sunday, October 24, 2021, she and her husband, Richard Liu, joined several other prominent leaders of the Chinese American community of the Washington, D.C. metropolitan area, and hosted a reception in honor of Maryland State Senator and Majority Whip Susan Lee.
An attorney, Senator Lee was elected to the Maryland House of Delegates in 2002, after which she was elected State Senator in 2014. She was the first Asian American elected to the Maryland State Senate, and the first Asian American woman and first Chinese American elected to the Maryland legislature.
She has advocated for and has advanced important legislation for the citizens of her state, including women and AAPIs and other minority communities. Attendees then adjourned inside and feasted on a wonderful buffet dinner that Karina provided. Multiple trays heaped with food stretched across a large area, and there was something to please every palate!
Although the reception began in mid-afternoon, it went past the official ending time and continued well into the night, as people were having such a wonderful time.
The Chinese American Museum in Washington, DC
On behalf of the Maryland Chapter of OCAW, Karina Hou attended the opening of the Chinese American Museum DC (CAMDC). Its mission is to advance the understanding, knowledge, and appreciation of the Chinese American experience by highlighting the history, culture, and contributions of Chinese Americans.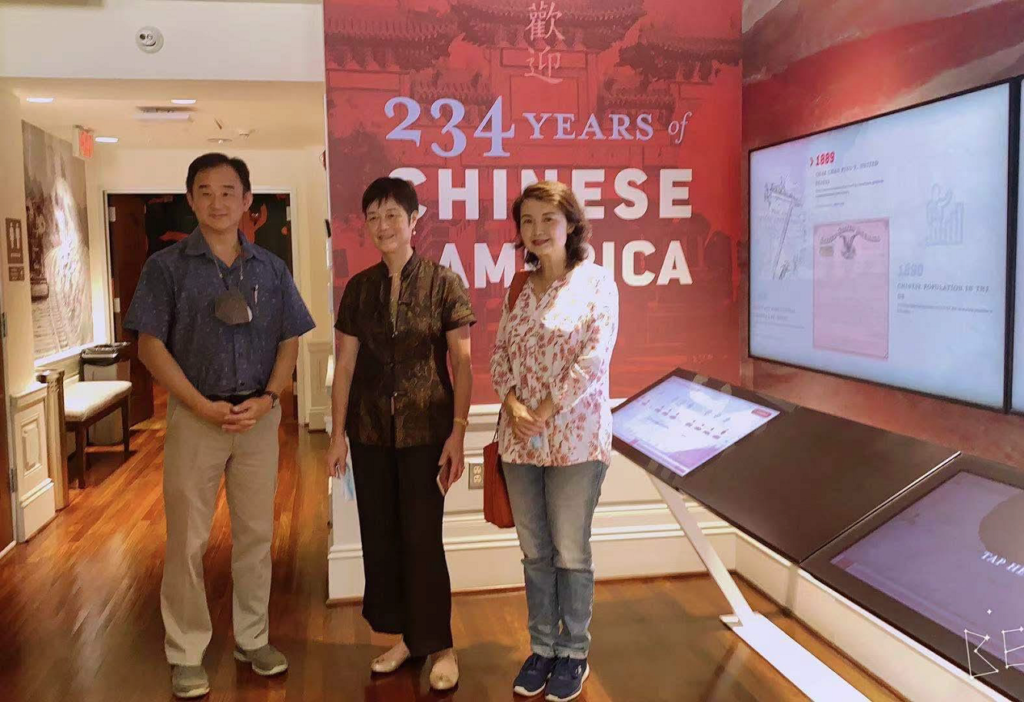 The museum's vision strives to be a nationally-recognized center for everyone by working with other organizations across the country.
Karina was able to connect with other Chinese Americans in DC where they had the pleasure of viewing the exhibit together. She urges OCAW members to show their support by checking out the museum's website for upcoming events and ways to assist them in their cause. The URL is: https://www.chineseamericanmuseum.org
Karina was additionally pleased to learn that the President of the museum would like to organize a private tour for OCAW members.
Montgomery Blair High School Donation Ceremony
On Wednesday, March 24, 2021, Karina Hou participated in the face mask and hand sanitizer donation ceremony hosted by the CEO of Asialinks, George Deng. The ceremony was held at Montgomery Blair High School in Silver Spring, MD, and focused on providing support for schools and senior centers of Montgomery County, MD.
Guests attending the ceremony included Montgomery County Council Member Hans Riemer; Christina Poy, Administrative Director of the Maryland Governor's Commissions; David Blair, businessman and philanthropist; and Dr. Henry H. Sun, President of Tasly Pharmaceuticals, Inc. A total of 30,000 face masks was donated to help the community. Last year, the Tasly North America Pharmaceutical Company contributed 3,000 bottles of hand sanitizer to frontline medical staff and essential workers. This year, the company was able to donate another 3,400 bottles of hand sanitizer to the county.
Karina participated in the donation ceremony as President of the Chinese American Chamber of Commerce of Greater Washington (CACCGW) and as President of the OCAW Maryland Chapter. She was very thankful for the guests and participants of this event.
Westfield Montgomery AAPI Ceremony
On Thursday, May 13, 2021, Karina Hou participated in the AAPI Ceremony at Westfield Montgomery Mall in Bethesda, Maryland, to show support for Asian Americans and Pacific Islanders in the greater Washington, D.C. area.
Westfield Vice President of Government Affairs Abby Jagoda presented leaders of the Asian Pacific American Legal Resource Center and the Organization of Chinese Americans (OCA-Asian Pacific American Advocates) donations of $10,000 each.
Maryland State Senator Susan C. Lee stated, "The 150% increase in hate and violence against Asian Americans and Pacific Islanders has been very disheartening. We thank and commend Westfield for joining forces with us to combat these vicious attacks against those in our community."

On behalf of the OCAW Maryland Chapter, Karina hopes that she can further support movements of civic responsibility and community partnerships. Westfield's collaboration and donations will help our next generation of AAPI leaders across the Maryland, Virginia, and District of Columbia area.
Cooperation with Maryland and Virginia Chapters. Click this link Orange Ribbon to see article in Virginia section.
Maryland Lyric Opera House Welcomes a New Year
The Maryland Lyric Opera House (MDLO) is a regional, nonprofit company that strives to make the highest level of classical opera productions accessible for all audiences.

Karina Hou, the President of the Chinese American Chamber of Commerce of Greater Washington (CACCGW), initiated a donation to the Maryland Lyric Opera House in order to help support their mission and platform for musicians and singers. Karina would like to share this important company with her OCAW sisters and urge the community to show their support by becoming familiar with the Maryland Lyric Opera House through their website, www.mdlo.org, and checking out their upcoming news and performances.
To welcome the new year, the Metropolitan Opera and Washington National Opera successfully signed on Vocal Director Li Yi to facilitate a youth training program for Chinese singers Chen Yongxi, Wang Congcong, Shang Chunlai, Nina Duan, Wang Yang, and Deng Manli.
MDLO takes pride in discovering and nurturing young talent while also providing a learning platform for singers. In 2018 and 2019, the theater was able to invite seven music students from China to study and perform in the United States. Their efforts helped establish a bridge for Chinese youth to pursue their passion for professional opera singing.

Although Maryland Lyric Opera is not currently performing on stage in their normal capacity due to COVID-19, they are charting their path forward and continue to make contributions in support of the community. The theater is grateful for all the donations they have received to help make their platform possible. MDLO wishes everyone a wonderful and prosperous Year of the Ox, and they hope that individuals will learn of their upcoming musical performances in case they might be interested in attending.

(Editor's Note: Karina hopes to be able to interest some MDLO artists in joining OCAW.)
"Stop Asian Hate Vigil and Rally"
The numbers of racism and hate incidents increase all over our country. We cannot keep silent and need to have our voices heard.
On Saturday, March 27, 2021, Christina Chang and her husband Steve attended the "Stop Asian Hate Vigil and Rally" at Cheverly Legion Park in Prince George's County, MD. Amy Fry, a member of the Cheverly Town Council and also a Korean American, organized this event in a short week, and over 100 people of different diversity show up.
During the rally, we shared one message, 'Stop Anti-Asian Hate,' while also acknowledging the pain the Asian American and Pacific Islander communities are feeling, and have felt for years.
We need to be careful and be aware of our surroundings. Stay vigilant and report any hate crime right away.
Maryland State has two numbers to report incidents: Emergency number: 911
Non-emergency number: 301-279-8000
Both numbers will reach the same office, but the emergency number will take priority.
Note: WUSA9, a local CBS affiliate, aired a story about the protest.
The Artwork of Karina Hou
Karina's paintings are based on the principles of nature, reality, and balance.
Karina is the President of the Maryland Chapter.