(from Maria Yang, President)
FAPAC-USDA Lunch
On Saturday, February 5, 2022, I participated in a lunch by the U.S. Department of Agriculture chapter of the Federal Asian Pacific American Council (FAPAC) to celebrate the Lunar New Year at Peking Gourmet Inn in Falls Church, Virginia.  During the lunch, I had a chance to meet some members who are working at USDA, and discussed with the President of FAPAC-USDA, Fred Cheng, the possibility of the OCAW Virginia Chapter participating in some activities sponsored by FAPAC.
I have been involved with FAPAC since I first became the President of OCAW-VA in 2014.  I feel deeply grateful that I received guidance and examples from FAPAC to design the flyers and banners for OCAW's National 40th Anniversary Conference and Celebration in 2017, and arranged activities for OCAW-VA during 2014-2017.  FAPAC-USDA President Cheng has been helping OCAW-VA to co-sponsor its lecture activity at the U.S. Department of Agriculture.
The virtual activities in February 2022 for OCAW-VA:
The members and friends of OCAW-VA were invited by the Federal Asian Pacific American Council (FAPAC) to join in the Lunar New Year virtual gathering to celebrate the Year of the Tiger with games, prizes, and networking on Saturday, February 12 from 12 to 1 p.m.
On Thursday, February 17 at 7:30 p.m., the members and friends of OCAW-VA had the opportunity to view the "Visiting Filmmakers Series" online at George Mason University.  The Series was hosting an engaging online conversation between filmmakers S. Leo Chiang and Laura Nix as they discussed Chiang's documentary film, Our Time Machine.
MGM National Harbor Lunch
(from Amy Lee)
On Thursday, March 24, 2022, members of the OCAW Virginia Chapter and spouses gathered for lunch at MGM National Harbor in Oxon Hill, Maryland.  The get-together stemmed from the fact that I missed seeing my OCAW sisters – plus, in my opinion, MGM National Harbor is one of the most gorgeously decorated hotel casinos.  So I matched up the two ideas, and we had a wonderful time catching up and enjoying good food.
I hope this is the start of a new tradition of combining great company and good food on a more regular basis.
Used to raise awareness for racial tolerance.
The orange ribbon in our Solidarity Against AAPI Hate logo is used to raise awareness for racial tolerance. The United Nations International Day for the Elimination of Racial Discrimination and Australia's Harmony Day also use the ribbon for racial harmony. Maryland and Virginia Chapter members Camilla Ng and Veronica Li attended the National Day of Solidarity Against AAPI Hate rally held on the National Mall in Washington, D.C. on Monday, May 31,. 2021. Hundreds of people voiced against the widespread hate crimes against Asian Americans, and made demands for justice and inclusion. This was one of 20 such rallies across the country on Memorial Day. This movement is supported by about 50 diverse advocacy and community groups, including the Chinese American Heritage Foundation, Organization of Chinese Americans (OCA-Asian Pacific American Advocates), Chinese American Citizens Alliance (CACA), 1882 Foundation, APIAVote, Council of Korean Americans, Arab American Institute, Japanese American Citizens League (JACL), and NAACP. A prominent lineup of speakers took the stage. They were of diverse ethnic backgrounds and religions, but all spoke to the same message. They celebrated Asian Pacific American Heritage Month, honored the Asian American soldiers and veterans, denounced the recent spate of hate crimes against Asian Americans, and pledged solidarity to combat this injustice. "Any attack against one is an attack against us all" became the battle cry. The speakers included state and county officials in the area, such as Justin Fairfax, Lieutenant Governor of Virginia, and our own Christina Wong Poy, former OCAW Maryland president. As the Administrative Director of the Maryland Governor's Commissions on APA Affairs and South Asian Affairs, Christina delivered a message from Maryland's First Lady, Yumi Hogan. Other speakers were individuals and groups from all over the country. Members of Asian Frontliners, a grassroots group created to protect and patrol the streets of Oakland Chinatown in California, marched on stage and made a formidable show of force. Regina Aquino, the first Filipino to win a Leading Performer Helen Hayes Award, told a moving story about how she discovered that she wasn't "broken," but was whole and fulfilled in her Filipino heritage. Speaker Lee Wong, an elected official of West Chester, Ohio, and an Army veteran. "Is this patriotic enough?" Fed up with people questioning his patriotism because he is Asian American, Wong lifted up his shirt to reveal scars from injuries he had suffered while in the U.S. Army, during a speech against racism at a recent town meeting. Speaker Jay B, founder of Asian Frontliners, with Asians with Attitude, volunteer street patrols of Oakland and Stockton, CA, holding flags of Laos and Cambodia. A 38-year-old Laotian American truck driver Jimmy Bounphengsy, who goes by Jay B, became an activist driven by the increasing anti-Asian attacks. Jay B drove 40 miles after work each day from San Jose to Oakland Chinatown, to walk the streets to provide unofficial security to stores and escort elderly citizens home safely.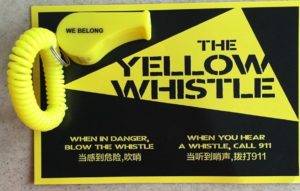 Yellow Whistle
Yellow whistles with wrist bands were given out at the rally. Sponsored by The Yellow WhistleTM, the "Yellow Whistle is a symbol of self-protection and solidarity in the fight against historical discrimination and anti-Asian violence. It is a simple gadget with a universal purpose – to signal alarm and call for help for all Americans. We shall not remain silent, because we belong." To obtain your Yellow Whistle, go to the THE YELLOW WHISTLE website. The rally was closed with a powerful soulful protest song, No More by KHA, a Vietnamese-American pop soul singer and songwriter, born and raised in the DC area. The lyrics of this beautiful song capture the history of the contributions of Asian Americans and their struggle against discrimination and injustice. It may become the national anthem for the Asian Americans. Ctrl-Click on the link below for this song. NO MORE – Original by KHA – Bing video All in all, it was a colorful, entertaining, and inspiring rally. The message was loud and clear: We belong and we will be silent no more. About Solidarity Against AAPI Hate (SAAH) SAAH is the brainchild of the Chinese American Heritage Foundation, created in direct response to the Atlanta shootings and the rise of anti-Asian violence brought on by the COVID-19 pandemic. Its goal is to amplify the AAPI voice, educate, inspire action, and affect change. Ctrl-Click on the link below for more information. Take Action – National Day of Solidarity Against Hate (solidarityagainstaapihate.org) (Photos taken by Camilla Ng) (Editor's Note: It is Camilla's personal hope that more Asian Americans will come out to support our communities under attack.)