Evening at the Embassy of China
Several members of the Virginia Chapter attended a cultural event at the Embassy of the People's Republic of China in Washington, D.C., on Thursday, July 27, 2023. It was organized by Things to Do DC, an organization which arranges educational and cultural events to enrich one's experiences. The occasion was meant to highlight the many wonderful aspects of the country.
Planning called for an interesting evening. Young diplomats were scheduled to greet attendees and be on hand to answer questions about Chinese culture and visiting China. Embassy representatives would be available to discuss the significance of historic paintings, artwork, and artifacts on display in the beautiful building designed by the world-renowned Chinese American architect I.M. Pei. Planned was an authentic Chinese dinner prepared by the Embassy chef, as well as a Chinese tea ceremony.
Several members of the chapter got together for lunch at the Mama Chang restaurant in Fairfax, Virginia on Saturday, August 12, 2023. Two items that have already resulted in action are:
1) Aid for the victims of the Maui fire. The collection has just started.
2) Planning for the Mid-Autumn Festival Potluck Party. It is set for 5:00 to 8:30 p.m. on Sunday, October 1, 2023.
3) A renewed effort to recruit young members.
4) An offer to Ted Gong at the 1882 Foundation to see if they needed help with the Chinese American Women in History Conference scheduled for October 5-7, 2023 at various venues in Washington, D.C.
Here is a link to the conference: https://1882foundation.org/cawh2023/
5) An agreement to reach out and have speakers at our Chapter meetings.
6) An agreement to explore other programs focused on community assistance and to work with other Chinese American organizations on their programs.
Mother's Day and Asian American, Native Hawaiian, and Pacific Islander Heritage Month
(from Maria Yang, Acting President)
The commemoration of Mother's Day and Asian American, Native Hawaiian, and Pacific Islander Heritage Month, held jointly by the Greater Washington DC Chapter of the World Chinese Business and Professional Women's Association and the Washington DC Taiwan Benevolent Association, was a resounding success, with a turnout of over 220 people. The members and friends of OCAW-VA were among those invited to attend. The occasion was held on Sunday, May 7, 2023, in the auditorium of the TECRO Culture Center in Gaithersburg, Maryland, and featured a lively showcase of Asian Pacific cultural performances and gastronomic delights, including Taiwanese snacks, Japanese sushi, and Singaporean noodles for lunch.
The highlight of the celebration was the recognition of mothers in families with three or four living generations and the honoring of their exceptional contributions to their families and society. This was accomplished through a series of Mother's Day videos, floral presentations, and the gifting of silk scarves to elder mothers, all of which served to underscore the traditional virtue of gratitude to mothers.
The event was graced by the presence of Christina Poy, the Administrative Director of the Maryland Governor's Commission on Asian Pacific American Affairs and a lifetime member of OCAW-MD. Among other OCAW members present was Dianna Gorin, a lifetime member of OCAW-VA, who traveled from North Carolina to partake in the festivities.
In addition to celebrating mothers, the event championed the cause of equal rights and the integration of American and Asian cultures. This was achieved through the showcasing of the invaluable contributions of the Chinese-American and Taiwanese-American communities to the world, furthering the goal of AANHPI Heritage Month events.
All in all, the commemoration of Mother's Day and Asian American, Native Hawaiian, and Pacific Islander Heritage Month was a joyous and meaningful event, which underscored the importance of family, culture, and community, and honored the most beloved and strongest pillars of every family, our mothers.
International Women's Day Lunch Celebrating with OCAW Leaders.
(from Maria Yang, Acting President)
International Women's Day (IWD) is a global day celebrating the social, economic, cultural, and political achievements of women, and it is celebrated every year on March 8. The day also marks a call to action for accelerating gender parity. Significant activity is witnessed worldwide as groups come together to celebrate women's achievements or rally for women's equality.
On March 7, 2023, 21 members and spouses of the Virginia Chapter came together to have a Dim Sum lunch at Vinh Kee Chinese Seafood Restaurant in Falls Church, Virginia, to celebrate and witness our accomplishments in the family and in the community.
Some members brought small memorable items to share their inspiration and achievements in life during the lunch.


The following are some of  OCAW-VA members' achievements and contributions to the community and country.
Chi-Hua Yang, former Virginia Chapter President
Dr. Chi-Hua Yang presented two lifetime achievement awards, representing accomplishments from her more than 30 years in research and development in semiconductor industries. The first one was received on August 26, 1995, for her role as part of the international Triad team, which was composed of engineers and scientists from three companies: IBM (U.S.), Toshiba (Japan), and Siemens (Germany). The Triad team's research and development program created the first successful 256Mb DRAMs, which was a technology breakthrough. Chi-Hua's technical contribution and teamwork were recognized. The collaboration among many scientists from different technical backgrounds, countries, and cultures were crucial for the success of this accomplishment.
In addition, Chi-Hua has extensive experience in a wide variety of technical work to make advanced electronics devices. While at BAE Systems, she received an award for her dedication and hard work supporting "Enhanced Ultraviolet Sensor Electron Bombarded Readout Integrated Circuit (EUV EBROIC)" on December 19, 2012. She has been working as a technology pioneer in areas such as the U.S. Deep Space Program, Satellite Program, Defense Weapons Systems, and infrared night vision scopes.
She feels that it is important that she, as an Asian woman, has been able to contribute in this highly technological and scientific field.
Christina Chang has been the OCAW National President for over 12 years. After a long career working for the Department of the Treasury, Internal Revenue Service, she retired in 2017. Her hard work, dedication, and contributions to the country were recognized in four letters from Presidents Jimmy Carter, Bill Clinton, George Bush, and Barack Obama.
Alice Yee Way worked for over three decades for the Department of Defense, during which time she received many outstanding achievement awards. She was grateful for their recognition and acknowledgment of her professional responsibilities.
However, reflecting on her lifelong achievements, she would consider that her most significant and certainly her most satisfying achievements would be raising three great children. When they were young, she instilled virtues in them such as loving, caring, fairness, and compassion to others. They are now on their own and continue to demonstrate these traits. Alice sincerely believes that she has accomplished a major life goal in seeing that all her children have become the best individuals they can be. Her best "awards" for this accomplishment are the acknowledgments from people stating "you raised great children."
Barbara Yorke retired at the end of 2017 after 36 years with NCTA – The Internet and Television Association. NCTA represents the spectrum of the broadband and cable industry from service providers like Comcast and Cox, through television programmers like HBO, Discovery, CNN, and Disney. As Senior Vice President of Industry Affairs, Barbara's primary responsibility was the production and management of NCTA's annual convention which was the largest in the cable television industry. Through her career at NCTA, she also managed the executive conferences and seminars and the NCTA Board Meetings.
In the late 1990s, she also served as Executive Director of the National Academy for Cable Programming which produced the CableACE Awards prior to cable programming being allowed to compete in the Emmy Awards. For her work, she was inducted into the Cable Hall of Fame which includes men and women whose names are legendary in the world of cable television and programming.
Amy Lee was honored to receive, on behalf of all the other dedicated volunteers, Washington, D.C. Mayor Vincent Gray's Community Service Award to Chinatown Service Center Volunteers for teaching ESL (English as a Second Language) and citizen preparation. This program was directed by Walter Woo and his wife, Shirley.
The ESL Award Ceremony was held on May 30, 2014, at the Lincoln Theatre in Washington, D.C. Afterward, Amy continued her volunteering up until the onset of the pandemic, so was happy to serve the community for nearly 20 years.
It was a most enriching experience for the volunteers and the countless number of students over the decades.
Chinese New Year Celebration
(from Maria Yang)
This year is the Year of the Water Hare, and January 22 was New Year's Day. The OCAW Virginia Chapter celebrated Chinese New Year by joining in on a Zoom webinar of the Asian American Association of the Library of Congress (LCAAA) on Wednesday, January 18, 2023, from 12 noon to 1 p.m. LCAAA invited the world-renowned speaker, Khadro Crystal Chu Rinpoche, to talk about the prediction of luck in 2023, her method of prediction, and advice for people to deal with bad situations during the year.
Combining one of the 10 Heavenly Stems and one of the 12 Earthy Branches, this year is also called the year of "Gui Mo" in the Chinese calendar, which corresponds to "Water, Wood" in the theory of the Five Elements. "As water produces wood in the generative cycle, this year is supposed to be a rather smooth year. However, given that 2022 was such an unstable year filled with uncertainties that led to negative consequences, we are still facing a bumpy road ahead in 2023," as Khadro Rinpoche mentioned in her publication, 2023 Calendar by Yun Lin Temple.
She also mentioned that in the calendar, "the hare is agile and witty; it can easily and quickly get out of trouble. With the title on the cover page of the calendar, 'Out of Harm's Way Like a Witty Hare,' we pray for the entire world to be as clever and agile as the hare, escaping from the dangers of rising inflation and economic recession. We also pray for the peaceful ending of the war, the upholding of international justice, and the restoration of international order."
Memoir Writing Presentation
(Veronica Li, former Acting President)
These writing experiences have taught me the necessary ingredients for cooking up a good memoir. The first one is the theme. In a memoir, the theme is the aspect of your life that you want to focus on. In Journey
Across the Four Seas, the theme is my mother's search for a home, and in Viking Voyager, the theme is Sverrir's Viking career. You can think of your life as a pie, and a memoir is a slice of that pie. If you want to write about your whole life, then your project is called an autobiography. It's like a scrapbook in which important pieces of a life are pasted.
Regardless of which category you take on, you should try to make the story as absorbing as a novel. In a novel, we read about a character struggling with a problem, eventually finding revelation and resolution. Descriptions of vivid scenes transport the reader to the character's world and the reader experiences what he experiences. For a memoir to be captivating, it needs all these elements of a novel. The only difference is that the characters in a memoir are real, and so are the happenings.
"The Essential Elements of Memoir Writing": https://youtu.be/eSXHX2hbK-8
(Maria Yang, President)
Yo-Yo Ma Concert
Members of the Virginia Chapter of OCAW celebrated Chinese Mid-Autumn Day on Thursday, September 8,
2022, at Wolf Trap National Park for the Performing Arts in Vienna, VA with a concert featuring the famed Yo-Yo Ma, Paquito D'Rivera, and additional artists with the National Symphony Orchestra. It was a beautiful, moon-lit, late summer evening, with clear skies, mild temperatures, and low humidity.
(from Pu-Chin Waide, lifetime member)
We Virginians were always envious of the Marylanders of their Merriweather Post Pavilion in Columbia, MD. But in 1972 things changed, as we got our very own outdoor theatre in Vienna, VA. In those early days of our youth, we did not mind traipsing from the far end of the parking lot, carrying coolers, blankets, and, of course, the ubiquitous bottles of wine and beer to our own $15 per person piece of grassy slope on the top and back of the stage. We spread out our blankets and took possession of our temporary piece of property. Almost at once our children demanded their picnic. That was what it was all about – munch while listening to the wonderful music emanating from the stage. We loved that and were indifferent to the long trek back to our respective cars at the other end of the parking lot.
As the years rolled by, and our bodies aged and slowed down, our trips to that wonderful musical place also diminished. The trek from the parking lot to the grassy space seemed daunting, but we forgot that relative affluence often accompanied old age, and we could afford to sit in the beautiful, modern, open-sided hall itself. We would not have to lower ourselves gingerly onto the grass, from which it would have been almost impossible to rise. Furthermore, we did not have to lug our coolers full of goodies; we could now buy our dinners and fancy snacks from several five-star eateries. Our cumbersome aging bodies were happy and relieved.

Maria Yang's mass email to the OCAW Virginia members telling us about Yo-Yo Ma's upcoming concert, was thrilling. Ma's cello playing is divine, and although I have many of his CDs, I have never seen him on stage. This was a concert I could not miss.
Maria had warned us about getting the tickets online. The price might be double that of the box office. I tried anyway, and discovered that the lawn spaces were $72 each, and the seats themselves were $125-$150 each. I was shocked. What was happening; Wolf Trap's pricing was deliberately set up so that it would be within reach of everyone. It did not seem right. So I took myself to the box office. Indeed, the lawn was $35 per ticket and the inside seats started at $72. I told the lady of my experience online, and she said that some people bought up blocks of tickets and then resold them at the inflated prices. There was nothing they could do about it. This was free enterprise. I purchased my two handicapped tickets for myself and my friend, and three for our helpers. I joked with my family, "if it hadn't been for my handicapped friend and me," they would not have been able to come, as the concert was sold out of regular seats.

Maria had also said that we might meet during the intermission, and she would hand out mooncakes and toast to the Mid-Autumn Festival. Being in a wheelchair, I did not expect to be able to meet up with my OCAW sisters. Looking around, it was indeed full. In a glance, I might have seen a scattering of empty seats. I felt sorry for those who had had to pay the gouged prices. I remembered our childhood teasing – "Too bad, so sad, I'm glad!"
When we had settled into our seats, I studied the program and was surprised and rather disappointed that the main feature was not Yo-Yo Ma, but rather a series of pieces of Latin music of Mexico, Cuba, and Venezuela. There was only one piece of music to be played by Ma on his cello, Paquito D'Rivera on his magical clarinet, and Cathy Yang on her erhu, an ancient Chinese two-stringed instrument. As we waited, the huge disc of brilliant silver, Autumn moon could be seen peeping from behind the tall trees, also waiting patiently for the music to start.
I gingerly stood up from my wheelchair and looked around. The myriad of different facial features, shades of skin, hair color, and costumes overwhelmed me. We were indeed testimony to Maestro Yo-Yo Ma's belief that, to quote the Program Notes of the Concert, "Culture could generate trust and understanding that will stimulate the imagination and reinforce our humanity" in the human race.
When the first piece began, I must admit that I was not sure of what I was hearing; it all seemed dissonant and off-beat, and my having been brought up in the Western European musical tradition, I was bewildered. However, I kept my ears opened and my mind open, and gradually I began to adjust to the strange harmony and syncopated beats and began to see in my mind's eye the lumbering of the Elephant and the prancing of the Clown. By the end of the piece, I was enchanted.
Of course, the next piece was the piece de resistance of the evening. This is what many of us came for. Binoculars were passed back and forth, zooming first on Maestro Ma, then D'Rivera then the erhu, which many had never seen before, and finally we settled down, closed our eyes, and listened. Celestial, wonderful, moving – how can one describe such sublime sounds. What amazed me was that the erhu could produce a voluminous and deep sound from such a small sound box. I was sure it would be dominated by Ma's cello.

During the intermission, somehow Maria found me, and came to give me a box of mooncakes, to share with my daughter-in-law and granddaughter and friends. It was a wonderful surprise. Of course, we had to open the box and have some of the cakes. Later an official of the venue came and smilingly told us that we were not supposed to eat anything in the pavilion, but she added, "I did not see what you have done" and walked away. We were gently chastised and made to feel a bit guilty. We will remember this always.
The rest of the evening was history. The audience was totally seduced by the musicians and craved for more, especially after such a finale as Leonard Bernstein's familiar West Side Story in concert form. Alas, it was late and many of us had "miles to go before I sleep."
Maria,
I am sure OCAW will join me in thanking you very much for a great evening. Those mooncakes were the icing on the cake. Did you also arrange for the FULL MOON?
Used to raise awareness for racial tolerance.
The orange ribbon in our Solidarity Against AAPI Hate logo is used to raise awareness for racial tolerance. The United Nations International Day for the Elimination of Racial Discrimination and Australia's Harmony Day also use the ribbon for racial harmony. Maryland and Virginia Chapter members Camilla Ng and Veronica Li attended the National Day of Solidarity Against AAPI Hate rally held on the National Mall in Washington, D.C. on Monday, May 31,. 2021. Hundreds of people voiced against the widespread hate crimes against Asian Americans, and made demands for justice and inclusion. This was one of 20 such rallies across the country on Memorial Day. This movement is supported by about 50 diverse advocacy and community groups, including the Chinese American Heritage Foundation, Organization of Chinese Americans (OCA-Asian Pacific American Advocates), Chinese American Citizens Alliance (CACA), 1882 Foundation, APIAVote, Council of Korean Americans, Arab American Institute, Japanese American Citizens League (JACL), and NAACP.
A prominent lineup of speakers took the stage. They were of diverse ethnic backgrounds and religions, but all spoke to the same message. They celebrated Asian Pacific American Heritage Month, honored the Asian American soldiers and veterans, denounced the recent spate of hate crimes against Asian Americans, and pledged solidarity to combat this injustice. "Any attack against one is an attack against us all" became the battle cry.
The speakers included state and county officials in the area, such as Justin Fairfax, Lieutenant Governor of Virginia, and our own Christina Wong Poy, former OCAW Maryland president. As the Administrative Director of the Maryland Governor's Commissions on APA Affairs and South Asian Affairs, Christina delivered a message from Maryland's First Lady, Yumi Hogan.
Other speakers were individuals and groups from all over the country. Members of Asian Frontliners, a grassroots group created to protect and patrol the streets of Oakland Chinatown in California, marched on stage and made a formidable show of force.
Regina Aquino, the first Filipino to win a Leading Performer Helen Hayes Award, told a moving story about how she discovered that she wasn't "broken," but was whole and fulfilled in her Filipino heritage.
Speaker Lee Wong, an elected official of West Chester, Ohio, and an Army veteran. "Is this patriotic enough?" Fed up with people questioning his patriotism because he is Asian American, Wong lifted up his shirt to reveal scars from injuries he had suffered while in the U.S. Army, during a speech against racism at a recent town meeting.
Speaker Jay B, founder of Asian Frontliners, with Asians with Attitude, volunteer street patrols of Oakland and Stockton, CA, holding flags of Laos and Cambodia. A 38-year-old Laotian American truck driver Jimmy Bounphengsy, who goes by Jay B, became an activist driven by the increasing anti-Asian attacks. Jay B drove 40 miles after work each day from San Jose to Oakland Chinatown, to walk the streets to provide unofficial security to stores and escort elderly citizens home safely.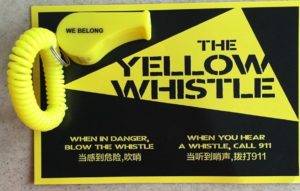 Yellow Whistle
Yellow whistles with wrist bands were given out at the rally. Sponsored by The Yellow WhistleTM, the "Yellow Whistle is a symbol of self-protection and solidarity in the fight against historical discrimination and anti-Asian violence. It is a simple gadget with a universal purpose – to signal alarm and call for help for all Americans. We shall not remain silent, because we belong." To obtain your Yellow Whistle, go to the THE YELLOW WHISTLE website. The rally was closed with a powerful soulful protest song, No More by KHA, a Vietnamese-American pop soul singer and songwriter, born and raised in the DC area. The lyrics of this beautiful song capture the history of the contributions of Asian Americans and their struggle against discrimination and injustice. It may become the national anthem for the Asian Americans. Ctrl-Click on the link below for this song. NO MORE – Original by KHA – Bing video All in all, it was a colorful, entertaining, and inspiring rally. The message was loud and clear: We belong and we will be silent no more. About Solidarity Against AAPI Hate (SAAH) SAAH is the brainchild of the Chinese American Heritage Foundation, created in direct response to the Atlanta shootings and the rise of anti-Asian violence brought on by the COVID-19 pandemic. Its goal is to amplify the AAPI voice, educate, inspire action, and affect change. Ctrl-Click on the link below for more information. Take Action – National Day of Solidarity Against Hate (solidarityagainstaapihate.org) (Photos taken by Camilla Ng) (Editor's Note: It is Camilla's personal hope that more Asian Americans will come out to support our communities under attack.)