(Maria Yang, President)
Yo-Yo Ma Concert
Members of the Virginia Chapter of OCAW celebrated Chinese Mid-Autumn Day on Thursday, September 8,
2022, at Wolf Trap National Park for the Performing Arts in Vienna, VA with a concert featuring the famed Yo-Yo Ma, Paquito D'Rivera, and additional artists with the National Symphony Orchestra. It was a beautiful, moon-lit, late summer evening, with clear skies, mild temperatures, and low humidity.
(from Pu-Chin Waide, lifetime member)
We Virginians were always envious of the Marylanders of their Merriweather Post Pavilion in Columbia, MD. But in 1972 things changed, as we got our very own outdoor theatre in Vienna, VA. In those early days of our youth, we did not mind traipsing from the far end of the parking lot, carrying coolers, blankets, and, of course, the ubiquitous bottles of wine and beer to our own $15 per person piece of grassy slope on the top and back of the stage. We spread out our blankets and took possession of our temporary piece of property. Almost at once our children demanded their picnic. That was what it was all about – munch while listening to the wonderful music emanating from the stage. We loved that and were indifferent to the long trek back to our respective cars at the other end of the parking lot.
As the years rolled by, and our bodies aged and slowed down, our trips to that wonderful musical place also diminished. The trek from the parking lot to the grassy space seemed daunting, but we forgot that relative affluence often accompanied old age, and we could afford to sit in the beautiful, modern, open-sided hall itself. We would not have to lower ourselves gingerly onto the grass, from which it would have been almost impossible to rise. Furthermore, we did not have to lug our coolers full of goodies; we could now buy our dinners and fancy snacks from several five-star eateries. Our cumbersome aging bodies were happy and relieved.

Maria Yang's mass email to the OCAW Virginia members telling us about Yo-Yo Ma's upcoming concert, was thrilling. Ma's cello playing is divine, and although I have many of his CDs, I have never seen him on stage. This was a concert I could not miss.
Maria had warned us about getting the tickets online. The price might be double that of the box office. I tried anyway, and discovered that the lawn spaces were $72 each, and the seats themselves were $125-$150 each. I was shocked. What was happening; Wolf Trap's pricing was deliberately set up so that it would be within reach of everyone. It did not seem right. So I took myself to the box office. Indeed, the lawn was $35 per ticket and the inside seats started at $72. I told the lady of my experience online, and she said that some people bought up blocks of tickets and then resold them at the inflated prices. There was nothing they could do about it. This was free enterprise. I purchased my two handicapped tickets for myself and my friend, and three for our helpers. I joked with my family, "if it hadn't been for my handicapped friend and me," they would not have been able to come, as the concert was sold out of regular seats.

Maria had also said that we might meet during the intermission, and she would hand out mooncakes and toast to the Mid-Autumn Festival. Being in a wheelchair, I did not expect to be able to meet up with my OCAW sisters. Looking around, it was indeed full. In a glance, I might have seen a scattering of empty seats. I felt sorry for those who had had to pay the gouged prices. I remembered our childhood teasing – "Too bad, so sad, I'm glad!"
When we had settled into our seats, I studied the program and was surprised and rather disappointed that the main feature was not Yo-Yo Ma, but rather a series of pieces of Latin music of Mexico, Cuba, and Venezuela. There was only one piece of music to be played by Ma on his cello, Paquito D'Rivera on his magical clarinet, and Cathy Yang on her erhu, an ancient Chinese two-stringed instrument. As we waited, the huge disc of brilliant silver, Autumn moon could be seen peeping from behind the tall trees, also waiting patiently for the music to start.
I gingerly stood up from my wheelchair and looked around. The myriad of different facial features, shades of skin, hair color, and costumes overwhelmed me. We were indeed testimony to Maestro Yo-Yo Ma's belief that, to quote the Program Notes of the Concert, "Culture could generate trust and understanding that will stimulate the imagination and reinforce our humanity" in the human race.
When the first piece began, I must admit that I was not sure of what I was hearing; it all seemed dissonant and off-beat, and my having been brought up in the Western European musical tradition, I was bewildered. However, I kept my ears opened and my mind open, and gradually I began to adjust to the strange harmony and syncopated beats and began to see in my mind's eye the lumbering of the Elephant and the prancing of the Clown. By the end of the piece, I was enchanted.
Of course, the next piece was the piece de resistance of the evening. This is what many of us came for. Binoculars were passed back and forth, zooming first on Maestro Ma, then D'Rivera then the erhu, which many had never seen before, and finally we settled down, closed our eyes, and listened. Celestial, wonderful, moving – how can one describe such sublime sounds. What amazed me was that the erhu could produce a voluminous and deep sound from such a small sound box. I was sure it would be dominated by Ma's cello.

During the intermission, somehow Maria found me, and came to give me a box of mooncakes, to share with my daughter-in-law and granddaughter and friends. It was a wonderful surprise. Of course, we had to open the box and have some of the cakes. Later an official of the venue came and smilingly told us that we were not supposed to eat anything in the pavilion, but she added, "I did not see what you have done" and walked away. We were gently chastised and made to feel a bit guilty. We will remember this always.
The rest of the evening was history. The audience was totally seduced by the musicians and craved for more, especially after such a finale as Leonard Bernstein's familiar West Side Story in concert form. Alas, it was late and many of us had "miles to go before I sleep."
Maria,
I am sure OCAW will join me in thanking you very much for a great evening. Those mooncakes were the icing on the cake. Did you also arrange for the FULL MOON?
Used to raise awareness for racial tolerance.
The orange ribbon in our Solidarity Against AAPI Hate logo is used to raise awareness for racial tolerance. The United Nations International Day for the Elimination of Racial Discrimination and Australia's Harmony Day also use the ribbon for racial harmony. Maryland and Virginia Chapter members Camilla Ng and Veronica Li attended the National Day of Solidarity Against AAPI Hate rally held on the National Mall in Washington, D.C. on Monday, May 31,. 2021. Hundreds of people voiced against the widespread hate crimes against Asian Americans, and made demands for justice and inclusion. This was one of 20 such rallies across the country on Memorial Day. This movement is supported by about 50 diverse advocacy and community groups, including the Chinese American Heritage Foundation, Organization of Chinese Americans (OCA-Asian Pacific American Advocates), Chinese American Citizens Alliance (CACA), 1882 Foundation, APIAVote, Council of Korean Americans, Arab American Institute, Japanese American Citizens League (JACL), and NAACP.
A prominent lineup of speakers took the stage. They were of diverse ethnic backgrounds and religions, but all spoke to the same message. They celebrated Asian Pacific American Heritage Month, honored the Asian American soldiers and veterans, denounced the recent spate of hate crimes against Asian Americans, and pledged solidarity to combat this injustice. "Any attack against one is an attack against us all" became the battle cry.
The speakers included state and county officials in the area, such as Justin Fairfax, Lieutenant Governor of Virginia, and our own Christina Wong Poy, former OCAW Maryland president. As the Administrative Director of the Maryland Governor's Commissions on APA Affairs and South Asian Affairs, Christina delivered a message from Maryland's First Lady, Yumi Hogan.
Other speakers were individuals and groups from all over the country. Members of Asian Frontliners, a grassroots group created to protect and patrol the streets of Oakland Chinatown in California, marched on stage and made a formidable show of force.
Regina Aquino, the first Filipino to win a Leading Performer Helen Hayes Award, told a moving story about how she discovered that she wasn't "broken," but was whole and fulfilled in her Filipino heritage.
Speaker Lee Wong, an elected official of West Chester, Ohio, and an Army veteran. "Is this patriotic enough?" Fed up with people questioning his patriotism because he is Asian American, Wong lifted up his shirt to reveal scars from injuries he had suffered while in the U.S. Army, during a speech against racism at a recent town meeting.
Speaker Jay B, founder of Asian Frontliners, with Asians with Attitude, volunteer street patrols of Oakland and Stockton, CA, holding flags of Laos and Cambodia. A 38-year-old Laotian American truck driver Jimmy Bounphengsy, who goes by Jay B, became an activist driven by the increasing anti-Asian attacks. Jay B drove 40 miles after work each day from San Jose to Oakland Chinatown, to walk the streets to provide unofficial security to stores and escort elderly citizens home safely.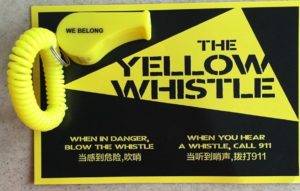 Yellow Whistle
Yellow whistles with wrist bands were given out at the rally. Sponsored by The Yellow WhistleTM, the "Yellow Whistle is a symbol of self-protection and solidarity in the fight against historical discrimination and anti-Asian violence. It is a simple gadget with a universal purpose – to signal alarm and call for help for all Americans. We shall not remain silent, because we belong." To obtain your Yellow Whistle, go to the THE YELLOW WHISTLE website. The rally was closed with a powerful soulful protest song, No More by KHA, a Vietnamese-American pop soul singer and songwriter, born and raised in the DC area. The lyrics of this beautiful song capture the history of the contributions of Asian Americans and their struggle against discrimination and injustice. It may become the national anthem for the Asian Americans. Ctrl-Click on the link below for this song. NO MORE – Original by KHA – Bing video All in all, it was a colorful, entertaining, and inspiring rally. The message was loud and clear: We belong and we will be silent no more. About Solidarity Against AAPI Hate (SAAH) SAAH is the brainchild of the Chinese American Heritage Foundation, created in direct response to the Atlanta shootings and the rise of anti-Asian violence brought on by the COVID-19 pandemic. Its goal is to amplify the AAPI voice, educate, inspire action, and affect change. Ctrl-Click on the link below for more information. Take Action – National Day of Solidarity Against Hate (solidarityagainstaapihate.org) (Photos taken by Camilla Ng) (Editor's Note: It is Camilla's personal hope that more Asian Americans will come out to support our communities under attack.)