New National President Maria Yang 2023
Dear Members of OCAW:
I have been an active member of OCAW for more than 10 years, and previously served as the President of the Virginia Chapter from 2014 to 2017. In 2017, OCAW celebrated its 40th Anniversary, and I was pleased to contribute my time and efforts to make this event very successful and memorable. Five years later, in 2022, the National President, Christina Chang, asked me to serve again as the President of the Virginia Chapter and to help with the 45th Anniversary celebration, which I was happy to do. In late 2022, Christina announced her retirement after 12 years of leading OCAW and asked if I would consider taking the reins as National President. I humbly accepted this volunteer position and hope I can follow Christina's example and make a strong contribution to OCAW.
As a women's organization, we have come a long way in our 45 years of the journey toward equality
and empowerment. Yet there is still so much work to be done. I believe that this organization has
the potential to make a real impact on the lives of women in the community and the world, and I am
committed to continuing to achieve our goals.
Together, we will strive to break down the barriers that hold us back, empower women of all ages
and backgrounds, and create a world where every woman has the opportunity to reach her full
potential.
It is with great honor and humility that I am here today as your new National President. I am
deeply grateful for your trust and confidence in me to lead this organization toward greater
heights.
Let us move forward with hope and determination, knowing that we have the power to make a
difference in the world. Thank you for giving me the opportunity to learn and serve OCAW!
Sincerely, Maria Yang
National President
45th Anniversary Celebration Washington, D.C. and Virginia Oct. 21-23, 2022
Friday, October 21
We hopped on board the Hop-on, Hop-off bus. On the route we could see the Jefferson Memorial, Arlington National Cemetery, the Washington Monument, and so on. It was a beautiful day.  We got off for our tour of the Capitol.
Our visit began with a short background film, and then a guided tour with our knowledgeable and exuberant guide, Chris. Afterward, Sandy took the initiative to inquire about seeing the Senate Chamber, which usually requires extra arrangements, and we were able to go inside it, sit in the gallery at our leisure, and ask questions of the staff member on duty. In answer to a question, he told us what it was like during the January 6th insurrection, and it was interesting to hear his perspective.
Click on gallery photo to widen.
Meet-and-Greet Reception at the home of Cathy and Dick Roberts 

A nice buffet array.  We were appreciative that the Hawaii Chapter delegation, led by President Edwina Lee, had brought with them some Kalua pig to share. New Orleans Chapter President Pat Ellzey brought some wonderful Pralines to share, a special 'taste of New Orleans' at the reception. Silicon Valley Chapter Immediate Past President Anne Hu flew in numerous bottles of California wines for guests, and Maryland Chapter President Karina Hou also contributed wine, along with Francis Pan, Glen Schwartz, and Jean Lorentzen. Barbara York, Jane Pan, and Pu-Chin Waide brought delicious dishes to share, and Noreen Hom and Mimi Hom also contributed items. 
There was certainly no shortage of food or drink!  
Saturday, October 22
Tour of the Chinese American Museum DC
From the very beginning of the planning for our celebration, the Chinese American Museum DC (CAMDC) had been a priority sight for OCAW members intending to come to Washington. Early Saturday morning, amidst more beautiful, sunny weather, participants converged on the museum in downtown DC.

Maryland Chapter President Karina Hou, an Advisor to the museum, introduced CAMDC Vice President Jenny Liu and Senior Advisor David Yao to the group.
David then proceeded to inform the audience of the detailed history of the museum and how it came into being only a few years ago. Christina Poy, OCAW Maryland Past President, added comments about her personal involvement with the museum from early on, and through this history indicated OCAW's ties to the museum from the beginning.
David Yao then suggested that we start with the fourth floor and work our way down. He gave really interesting, detailed commentary about many of the objects on display, describing their background and significance, and their place in Chinese history. We truly appreciated the two-hour visit.
Visits to Smithsonian Museums
The consensus was first to visit the National Museum of Natural History.  Since there were so many exhibits to see, we went either as individuals or in small groups to our particular areas of interest.
All, though, wanted to see the famous Hope Diamond first. After that, we scattered to other parts of the huge building. Areas visited included the always popular Gems and Minerals Collection, the relatively new Ocean Hall, and the most recently renovated Deep Time Hall, formerly the popular Dinosaur Hall. The newest techniques in museum curating (including interactive exhibits) are on full display in the fabulous, new Deep Time Hall, which makes it one of the most well-visited attractions on the National Mall.
In front of the Natural History Museum's
well-known, iconic elephant.
Once done with Natural History, we enjoyed the nice weather and took a brief tour of the nearby National Gallery of Art Sculpture Garden. On the way to Natural History, the outdoor exhibit had attracted the attention of some of our group, and they wanted to explore it further.
Among the various modern art sculptures, we laughed and had a big debate about one piece in particular: Roy Lichtenstein's "House 1." A couple members of our group absolutely *insisted* that depending upon where you viewed this 'house,' IT MOVED!
The rest of us tried for the life of us to see this movement, but no go!
After exiting the sculpture garden, we walked over to the other side of the Mall and made our way to the National Museum of Asian Art. This is the name for the two connected galleries that constitute it: the Freer Gallery of Art, and the Arthur M. Sackler Gallery. 
It had been an educational and informative day, as well as a lot of fun!
Saturday night dinner
Museum-goers were joined by other chapter members for dinner at the Lotus Garden restaurant in Vienna, VA. Two tables of attendees enjoyed a nice meal and conversation.
(Editor's Note: During the COVID pandemic, Veronica Li, former Virginia Chapter Secretary and subsequent Acting President, spearheaded the Virginia Chapter's COVID relief project of providing free meals to healthcare workers at several different Northern Virginia hospitals, as a thank-you for their tireless work during this stressful time. With chapter members' donations, the chapter bought the food from Lotus Garden, and the restaurant generously supplemented the meals with free egg rolls.)
Sunday, October 23                     OCAW Conference
Attendees began to gather early Sunday morning at the Alexandria House in Alexandria, VA for the all-day occasion. The building is the residence of Virginia Chapter member A. Lee. She graciously hosted us for the day in the penthouse on the 23rd floor. Thank you to Alice Way (VA Chapter Vice President) and Norman Way for handling registration duties.
Twenty-page handouts on the history of OCAW, printed from the OCAW history book, were available for participants to take. Thank you to Puanani Woo, former Hawaii Chapter President and Kohala Hawaii Chapter Advisor, who donated the money for the printing, and to Christina and Steve Chang who had the handouts printed and assembled.
OCAW National Board Meeting

Board members congregated for the 4th quarterly board meeting of 2022. It was chaired by Anne Hu. Among reports and other business, very detailed chapter reports were given by Hawaii President Edwina Lee, Silicon Valley Immediate Past President Anne Hu, New Orleans President Pat Ellzey, Virginia President Maria Yang, and Linda Devine who was acting for Maryland President Karina Hou.

Edwina Lee announced that the Hawaii Chapter would be making a donation to the New Orleans Chapter, to be used for repairs to the Chinese Presbyterian Church which was severely damaged in 2021 by hurricanes. The church has been the venue for Chapter meetings and events for many years, and funds are still needed for renovation work. Pat, as New Orleans President, expressed gratitude for Hawaii's generosity.
Linda Devine, as National Communications VP, publicly commended that the OCAW website is up to date and transformed. The website had not been up to standards for a long time, and efforts by volunteers and others had been stymied by technical issues. Updated articles and new segments were quickly inputted. The resulting product is now something to be very proud of.
As hard-working President Christina Chang is retiring after many years of service to OCAW, elections were planned for a new President. Cathy Roberts, in charge of nominations, reported that there were two candidates proposed – both declined at the time. Thus, as of this writing, the position is currently open, and efforts will be made to find other candidates to fill it. It was stressed that the next President does not have to reside in the DC area, as has been the case in the past. With internet and other modern communications easily available, the next President can live anywhere. If you feel that there is an OCAW member who would make a good President, please convey your thoughts to the national board.

Upon the occasion of Christina Chang's retirement, Linda Devine, on behalf of the entire OCAW membership, presented an appreciation plaque to Christina, noting her 12 long years of invaluable service as National President.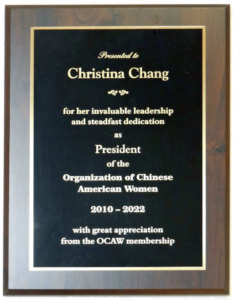 Conference Speakers Session
Some individuals who were not able to attend the conference in person had been very interested in listening to the talks, and Maria Yang had arranged for the session to be broadcast via Zoom to accommodate them.  Working on Zoom participants.
Our first presentation was entitled, Nutrition Facts and Remarks, and was given via Zoom from New York by Dr. Lihua Zhang, a former President of the OCAW New Orleans Chapter.
Lihua graduated from Nanjing Medical University with an M.D. degree, and from the Naval Medical University in Shanghai with a Ph.D. in nutrition in critical care. She practices in hospitals as an anesthesiologist, and in clinics treating patients with holistic medicine. She is also a licensed acupuncturist.
As the title of the presentation suggested, Lihua offered several tips on how to maintain good health. She discussed various foods that she felt were especially helpful to consume, but also expressed caution about other foods. She explained various diets (Adkins, etc., and currently Keto) that have been advertised and promoted over the years. However, rather than follow any one such diet, she believed that it was most important to simply follow a diet of moderation. She advised everyone to 'listen to their body,' as it was the best guide to their own personal health. If one experienced problems, she recommended that they consult their doctor.
Our second presentation was entitled, How to Slow Down Joint Degeneration, and it was given via Zoom from California by Dr. Wendy Chuang.
She is a lifetime member of the OCAW Silicon Valley Chapter. Wendy received her B.S. in Neuroscience and Physiology from the University of California, San Diego and then her Doctor of Chiropractic from Palmer College of Chiropractic West, where she also was a faculty member for many years. She was the founder of Natural Health Pros in Sunnyvale, CA. Wendy has volunteered both locally and abroad with many organizations such as the American Cancer Society, Chinese American Coalition for Compassionate Care, and several others, and has given numerous health talks to companies, Asian community associations, etc. In her past 22 years of experience, she has addressed the concerns of Asian patients and worked with their needs.
Wendy informed us that as one aged, there was a natural deterioration of the spine and other body parts. She advocated maintaining erect posture, which keeps a straighter body alignment. The goal is to strengthen one's core to help prevent deterioration. Wendy demonstrated deep breathing techniques which were beneficial. She also discussed the value of stretching exercises, and emphasized how important they were.
Wendy then had audience members stand up and perform a couple of breathing and stretching exercises, and we followed her lead.
Our third presentation was entitled, "Flowing with the Pearl River,"
and was given by Amy Chan Zhou. Amy graduated from the State University of New York with a B.S. degree in accounting, and she is currently working for Montgomery County Public Schools in Maryland.
Amy is the author of the book, Flowing with the Pearl River: Memoir of a Red China Girl. Talking about the contents of her book, Amy discussed the difficult times she experienced growing up during China's Cultural Revolution. She related incidents involving her family members, describing what they went through and what they had to overcome. 
Our fourth presentation was entitled, Colors in Chinese Traditional Court Clothing, and it was given by Maria Yang.
Maria is the current President of the OCAW Virginia Chapter. She received her B.A. in English Language and Literature and her Masters in Chinese Language and Literature and completed coursework in a Ph.D. Program in Applied Linguistics. This education prepared her to be a qualified Language and Culture Instructor, and since 2010, she has been teaching "Taiwanese Literature" in the Modern and Classical Languages Department at George Mason University in Virginia. In addition, Maria has about 30 years of experience teaching Chinese language in both college and office settings, and she is also currently teaching Mandarin Chinese language at the Arlington Community Learning Program.
Maria discussed the importance and meaning of colors in Chinese clothing historically. Colors were segregated by class, with some colors reserved for the upper class (like yellow for the Emperor), and other colors for average citizens.
She also informed us that there were certain colors associated with each period of the Chinese Zodiac, and she cited which specific colors went with each of the twelve signs. Maria concluded her presentation by generously handing out gift sweaters of different colors to some of the out-of-town attendees whose Zodiac sign matched the appropriate color. These presents were a nice surprise and much appreciated by their recipients.
Before our final formal presentation, we interjected a brief, light talk by Lily Tan, a former President of the Silicon Valley Chapter. She had all of us laughing, as she demonstrated her innovative hair-curling technique. While she was waiting for her hair to 'set,' she seriously discussed a book she had written entitled, Fire Scar: The Untold Story of the 1887 Burning of San Jose's Chinatown. Written under the name of Lily K. Lee, it is a work of fiction but was based on a true account of the shameful burning. After her brief book description, she removed the socks to reveal her new curls!
Our final presentation was entitled, "The Chinese in Hawaii," and it was given by Dr. Sandy Young. 
Economist, school principal, and educational consultant are careers that have nourished Sandy's love of international travel. A three-time Fulbright Scholar and a Rotary International Exchange Scholar to Beijing, she has been able to gain a global perspective of life and learning. As a world traveler, she has shared her international educational perspectives wherever she has ventured.
Sandy regaled the audience with a highly interesting set of various facts that pertained to their island state of Hawaii. For example, it is the most diverse state in the U.S., both geographically and culturally. It is the only state that is a Majority Minority state, and no one ethnicity rules over the others. After her presentation of numerous facts, she and the other members of the Hawaii delegation performed a wonderful hula dance for us, to the well-known and beloved "The Hukilau Song." Sandy asked us to pay strict attention to the dancers' hand and foot movements, as we were going to be asked to join them subsequently. After their dance, we audience members got up and followed their lead – or tried to! – and had immense fun! 
Thank you very much to all of our speakers for their wonderful presentations, the volunteers and organizers.
Dinner
Large trays of sliced brisket, pulled pork, cucumber salad, cole slaw, macaroni and cheese, baked beans, and cornbread were set out for the hungry crowd. 
Wine that had been provided by Anne Hu and others for the Friday night meet-and-greet reception that had not been consumed that night, had been brought to the Sunday night dinner, so attendees were able to enjoy more fine wine with their meals.
While guests continued to enjoy their meal, they pulled out the raffle tickets they had been given upon registration earlier and waited to see if they had won one of the many door prizes offered. Lucky winners received a pretty scarf or a Chinese cookbook. 
Musical entertainment  After most of the attendees had finished their dinner, Steve Hom, guitarist teamed with Karla Chisholm. Karla and Steve performed several songs from the Great American Songbook and Broadway, and also a few Latin standards.
When Steve introduced the song "Sway," he invited the audience to "sway" with the music, and indeed, several OCAW members took him up on his offer! Former Virginia Chapter President ChiHua Yang immediately moved to the back of the room, grabbed Cathy Roberts, and began dancing. Camilla Ng, Pat Ellzey, and others showed off their "moves" as well. Yuling Khorsandi also danced her way to the group in the back, and then truly enjoyed "swaying" to the music. The audience laughed along and snapped pictures, and thoroughly enjoyed the moment. After the performance, a special anniversary cake was brought out.
All enjoyed the special dessert before saying their goodbyes to one another. This concluded the official portion of the anniversary celebration.
Monday, October 24
Virginia countryside sightseeing
In addition to the famous sights of Washington, D.C., Christina Chang liked the idea of showing our out-of-town visitors some of the lovely sights and scenery outside of the city. A day trip was planned for Monday, which would take our visitors to the Virginia countryside. The planned destinations were Skyline Drive and Luray Caverns.
Hawaii, being of tropical climate, does not experience the "fall colors." It was hoped that the Hawaii delegation especially would be able to enjoy these beautiful fall colors with the leaves turning their reds, yellows, and oranges.
Tuesday, October 25
More Virginia sightseeing was planned for Tuesday, although to sites closer to home.
This time,  Great Falls Park (a National Park Service site), where they enjoyed the waterfalls of the Potomac River. 

After a return home for lunch, the group headed out once more. Their destination was Manassas National Battlefield Park, the site of the first major battle of the Civil War (Battle of Bull Run). Today's drivers were much appreciated.
That evening, Christina prepared a fabulous dinner for our visitors, the final one of their trip. They practiced Lily's hair-curling technique, and had much fun singing karaoke! It was a wonderful way to end their visit, before their flights back home the following day.
All in all, OCAW's 45th anniversary celebration was a big success. All of the planned events went off well, everyone had a great time, friends happily reunited with one another, and many new friendships were made. It is virtually impossible to thank everyone by name for all they did to make this celebration the great success that it was. Dozens of people pitched in, and helped in various ways, large and small. To all of our out-of-town members who flew in from various parts of the country and ensured that all five OCAW Chapters were represented at our milestone event. It was so nice to meet you and get to know you!